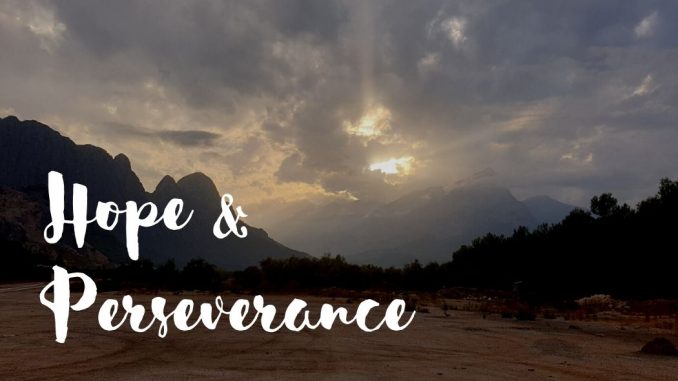 As this year starts to near its end, I've found myself reflecting on some the events of these last 12 months.
One of the words that has stuck out in my reflections is the word "perseverance". Scripture talks about perseverance all over, from God's promise to Abram, to the Widow and The Judge, to admonitions all throughout the Epistles. I don't think it's a stretch to say that perseverance is a central tenet to being a disciple of Jesus. We're called to to hold on to hope, even when it doesn't make sense; to continue to shine when all we see is darkness; to keep our eyes on the prize – Him, and His Kingdom – when everything else would try to distract us.
There's a couple stories from this year that have been particularly encouraging to me, that involved perseverance in the midst of situations that I had actually lost hope for.
I hope these stories are encouraging to you!
The Guy on the Bench – Revisited
Many of you will remember the story I shared a few years ago about the Guy on the Bench. If you haven't read it, or don't remember it, go give it a quick read and then come back.
I never gave much of a follow-up with his story.
After we first met him on that bench, Mohammed asked if we'd be able to start meeting up once every week or so to read the Bible together. He had so many questions, and wanted to learn as much as he could. We met quite regularly over the following year and a half. It was such a unique time. When we would meet together, we would read Jesus' words, and it seemed clear that Holy Spirit was drawing Mohammed. We would read sections like where Jesus says, "If anyone wants to be my disciple, let them deny themselves, pick up their cross, and follow me", and Mohammed would be shocked by the power, beauty, and humility in such a command. "I don't fully understand this, but when I read it, it really hits home. It fills my heart."
However, in contrast to some really cool moments we were having like that, there was also little evidence that he actually wanted to follow Jesus. I asked him where he was at several times over that year and a half, and we met lots of people at the cafés we would hangout at, and every time he was asked about what he believed, he would say, "I deny all religions. I don't believe in anything. I think there probably is a God, but that's about all I think. I like reading the Bible, but I don't accept any religion or faith system."
I found that super discouraging. I was spending so many hours reading with this guy, sharing the Gospel with him, and praying for him… but there was no evidence of the fruit of salvation in his life.
Well, in the summer of 2019, I moved away from the city where we had met, and he also moved back to the village where he grew up.
We fell out of contact.
We still messaged once every couple months or so, but nothing compared to the weekly meet-ups we were having before.
…
One of the things that I remember thinking a lot during that time was a question:
Did I waste my time with Mohammed?
We spent so many hours together, and I spent so many hours sharing with him and praying for him… and best I could tell, there was no real fruit. He was still an agnostic, denying all faiths. Apparently no closer or further from Jesus than when we started.
So, was it worth it?
I sat with that question for months. I didn't have an answer… though, if you had asked me at the time, I think I would have said "no, I think it might not have been worth it."
…
Then, several months ago, I got a message…
From Mohammed….
Hey Josh! Just wanted to let you know some big news. I'm a Christian now! Thank you so much for all the time you spent with me when I was searching! I wouldn't have come to the place I am without you. Thank you!
😳😳😳😳😳😧😧😧😧😧😭😭😭😭😭
Well… that was unexpected.
I got on a call with Mohammed a few days later. He told me that he had made the decision several weeks before. His family and his community still didn't know, and he wanted to be cautious, because he lives in a very conservative Muslim village where it could be dangerous if they find out he's converted to Christianity. But, he knew that Jesus is Lord, and he wants to follow Him with his life.
A couple months ago, we started up our old tradition of doing weekly Bible studies. Even though we now live over 1,500 km away from each other, we're able to meet online in video calls. We've been having discipleship calls, reading scripture together, praying together, and exploring what it means for him to follow Jesus in a conservative Muslim village, hundreds of kilometres from the nearest Christian.
He's hungry to know Jesus more.
Please continue to pray for Mohammed. I believe Holy Spirit has put in him a spark that will result in hundreds and thousands of his people coming to Jesus!
May it be, Lord.
Fool me once, shame on you; Fool me four times….
I've mentioned in previous posts about the ministry project we've been working with this past year.
I wrote how we have a list of about 1,800 names and phone numbers, of people who have requested Bibles over the last few years. Throughout this year we've been working to contact and follow-up with everyone on that list. However, while we've been working through that backlog, we've also been getting new people requesting Bibles and information about Jesus.
This is a story about one of those guys, whom we'll call Ismail.
Now, Ismail wasn't actually part of the list when we first got in contact with him. Instead, he had contacted a website of a friend of ours, and that friend got us in contact with Ismail. When we first started messaging, Ismail seemed very excited to meet us and to talk about Jesus, and even more excited to meet with us.
So, the next time we went to his city (a 4 hour drive from where we live), we scheduled a time and place to meet. We were excited to meet him, because he seemed really ready for Jesus. He said in his messages that he was excited to meet us too.
But, he didn't show up.
This actually happens a decent amount for us, especially since Coronavirus came onto the scene. For some reason it's gotten more common for people to plan to meet with us, but then stand us up. Sometimes that's from fear of meeting a Christian. Sometimes it's from fear of the virus. Though, in many cases we never hear a reason for people standing us up.
So, Ismail not showing up on our first meeting didn't seem super abnormal for us. We messaged him afterwards, and said, "Hey, if you still want to meet, we'd be glad to meet with you. We're still in town for another day. We can plan something tomorrow."
"Yes!" came the reply, "I still want to meet." But, he didn't offer any reason for not showing up for the previous meeting.
So, we scheduled another meeting for the following day.
And he didn't show up for that one either. And never got in contact about it.
So, we basically wrote Ismail off. If he stood us up twice, he'll probably stand us up again, we figured.
---
About a month later, Ismail requested a free New Testament, and his name showed up as a new contact on our list!
We decided to give him another chance.
We reached out to him, and he again said that he wanted to meet. So, the next time we came to his city, we planned a meeting….
And he stood us up a third time!
For me, that was the last straw. Getting stood up 3 times with no explanation was too much.
We had one more meeting planned with a different group the following evening, but nothing planned for the rest of the day.
My friend whom I was travelling with said, "Hey… you know… let's give Ismail one more chance."
"… What??" I said. "Why would we do that. You know there's no chance he's going to show up. He's stood us up 3 times now. You want to make that 4?"
"I don't know." he replied. "I'm also confident he's not going to show up… but why not give him one more chance?"
We discussed it further. I continued to emphasize that it didn't make sense to try again.
My friend posited, "We can either spend most of tomorrow working and waiting in a coffee shop for tomorrow evening's meeting, or we can give Ismail one more chance… and if he stands us up again, we'll still spend all of tomorrow sitting in a coffee shop working, and waiting for tomorrow evenings meeting. We lose nothing by giving him another chance."
"Yeah… that's fair." I conceded.
So we gave Ismail one final invitation.
We arrived at the coffee shop as we had planned. He messaged us and told us he was there. I looked around the fairly small shop. I checked at all the tables on both floors of the coffee shop… and he wasn't there.
"Great," I said. "Now he's standing us up and lying to us."
We sat down on one of the chairs, and I was frustrated.
After a couple minutes, my friend suggested that we call Ismail. "Maybe he's at the wrong coffee shop?"
So, I gave him a call.
"Hey!" he answered. "Are you guys here?"
"… umm… yes? We're sitting at a table… Are you here?" I replied.
"Yeah! I'm waiting at the front entrance. I was talking to someone for the last few minutes. I must have missed your arrival. I'll be right in!"
A few seconds later, he came through the door.
"Hey! I'm so excited to meet you guys!"
"Yeah, we're happy to meet you too! It's been a bit of a challenge making a meet-up happen, hey?"
"Yeah, I'm so, so sorry for that! Every time we had a meeting planned, something crazy came up. The first time, I ended up getting into a car accident and had to spend all day dealing with that. Another time, my boss wouldn't let me get off work when he promised me I could, so I wasn't able to come or even message you to let you know. I'm really sorry it's taken so many attempts to make this work out!"
"That's ok. At least we're finally able to meet up today!"
After chatting and getting to know each other a bit, I asked him why he had requested the Bible and reached out to our friend.
"Well, the truth is, I'm really interested in the way of Jesus. I've been wanting to learn everything I can about Him for months. So I've been searching out anything I can find about being a disciple. I don't think I can call myself a Christian yet, but I'm definitely on that road."
"Wow, that's really cool," I responded. "What's preventing you from becoming a Christian, then? Is there something you disagree with?"
"Oh no, nothing like that! I believe all of it. I believe that Jesus is Lord, and I want to give my life to following Him. There's nothing I've found in the Bible or in Christianity that I disagree with."
"Oh?"
"Yeah. The only reason I can't call myself a Christian yet is that I read once that you can't worship or call yourself a Christian if you've never been baptized, and I've just never met another Christian who was able to baptize me. You guys are the first Christians I've ever met."
😮😮😮😮😮
Needless to say, this was a different conversation than we had expected!! The more we talked to Ismail, the more it became clear that he just really wanted to know Jesus, and really wanted to be filled with the Love of God.
Ismail told us that he wants to obey Jesus and to be baptized. We showed him in scripture how, actually, baptism is a vital part of being a disciple of Jesus, but it's not actually a pre-requisite. It's something we must do if we've dedicated our lives to Him, but it's not the thing that makes us saved. He lit up with so much joy when we told him that He could worship God through Jesus right now as a follower of Jesus, even if he hasn't been baptized yet.
We have an app that we started using recently, which has a simple but fairly comprehensive Bible reading plan designed to make it really easy to teach new disciples and their communities the story of salvation, and to show them how to be a disciple of Jesus.
I showed the app to Ismail, and explained, "If you want, we could baptize you right now. That's how they did it in the Bible, and there's nothing stopping us from doing that if you want. But baptism is a big and really important step. For a lot of people, and especially a lot of former Muslims, they find it beneficial to take some time to really learn what they're getting into, instead of just jumping right in. If you want, over the next few weeks, we have this plan that sums up the Bible, and shows what it is that you're really committing to if you chose to be baptized. It's really simple, and it's set up so that, say, if you wanted to do this with your friends and family later on when we're not here, you can easily do that. But…"
"Wait," Ismail interrupted, "So, you're saying that if I want to teach my friends about all this, we can just go through this plan together and we don't need to have you there with us?"
"Of course," we replied. "We are not the source of Truth. We're not your Teacher. The Bible is the Teacher. God Himself is the Teacher and source of Truth."
"That's amazing!" he said.
So, we did the first session of the Bible study plan. Afterwards, Ismail said, "Wow. Thank you so much for being willing to meet with me, especially after all the issues we had making a meeting happen. I don't know if I've ever felt as full in my spirit as I do right now. Thank you so much."
We shook hands, hugged, and then parted ways.
A couple hours later, my friend got a text from Ismail: "Hey guys, thank you again for meeting with me. It means so much to me! I just wanted to let you know, I downloaded that Bible study app that you showed me, and I've messaged a few of my friends. We're going to meet up together this week and do the first lesson together!"
---
"Let us not become weary in doing good, for at the proper time we will reap a harvest if we do not give up." ~ Galatians 6:9