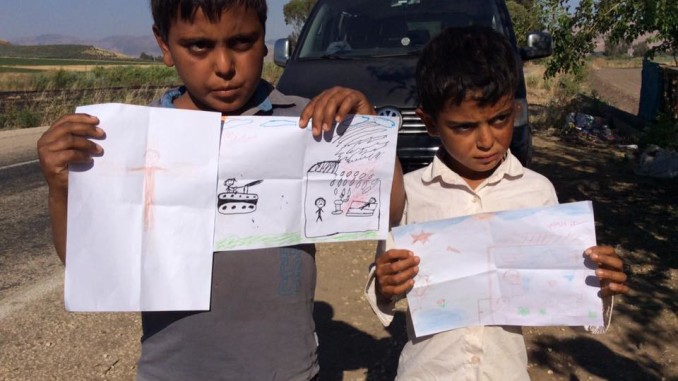 I recently met a group that was helping out at a refugee camp near Syria, and got to hear a simply amazing original story that I couldn't help but share here.
Enjoy!
Something unbelievable happened today.

Today we went to the nearby city where we've been helping refugees. A friend went with us to distribute food parcels, and she brought pencil crayons, felt pens and paper with her. You may have seen photos from previous visits, of a boy whose face and arms were burned. We gave paper and pencil crayons to this boy's family, and told them to draw and colour whatever they wanted. We told them we were going on to deliver more aid to other refugees, and on our return we would stop in and see what they had drawn.

When we came back, the boy who had been burned when a bomb fell on their home, had drawn a picture. It was their home. His yet unborn brother/sister had been born and was in the picture, but in the picture he drew airplanes dropping bombs on their home. His older brother was able to explain this to us. One day in the winter, their home had been bombed by airplanes and the house collapsed. In the picture, the boy drew his brother lying under the collapsed roof. There's a good chance that the wood stove fell over during this event, and he was burned in this way.

At this point we noticed that the mother was holding a piece of paper in her hand. We asked to look at it.

She said, "It's nothing, just a man." We again asked to see the picture. We took the picture and looking at it, saw a man on a cross.

We were very surprised and asked the boy, "Who is this man?"

The boy answered, "He is the man who wants to stop war!" It seems that Jesus had shown himself to this boy, the boy had drawn the picture and then he told us who the man was. Jesus Christ was comforting this boy.

Neither his mother nor the boy had any knowledge of who Jesus Christ is. We were able to explain to them who the man on the cross was and we were so happy that Jesus Christ had talked with the boy. Sadly, this boy cannot read or write in any language. Otherwise we could have found an Arabic children's Bible for him so he could learn for himself about Jesus Christ, the man on the cross. His mother realised that this picture was very important.
Please, my brothers and sisters, keep on praying!