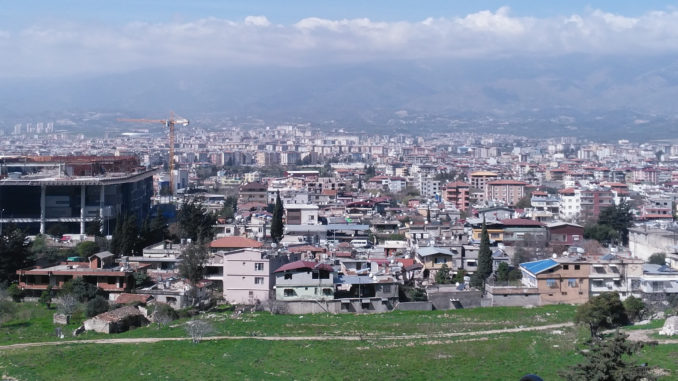 The End of a Chapter
I sit in a crowded inter-city bus across the country right now, on my way to meet with some of my Canadian friends before doing some more traveling, and eventually heading back to Canada in June.
It's done. My internship which started back in January 2015, and my time of leading the refugee ministry which itself started a mere 12 months ago, is done. And WOW. What a year and a half it's been.
I came here thinking I was going to be pouring into the local church, and working doing ministry on the streets, parks, etc. like I often do in Canada with Street Invaders, Martyr's Life, the Love Bus, or Project Aware. And while there were a few times where I got to do that, what ended up taking up the majority of my time was a LOT different than I had expected.
As many of you know, and as I originally wrote about in my prayer letter last year, back in April 2015 my internship leader asked me to travel with him to his office one day. While we were on the way to his office, he outlined some brainstorming he had done about how the local church could help the refugees in the country. That meeting and those ideas in less than a month lead to us starting our refugee food distribution program, which in turn lead to our small church registering, and starting to serve over 5400 families within the following 8 months.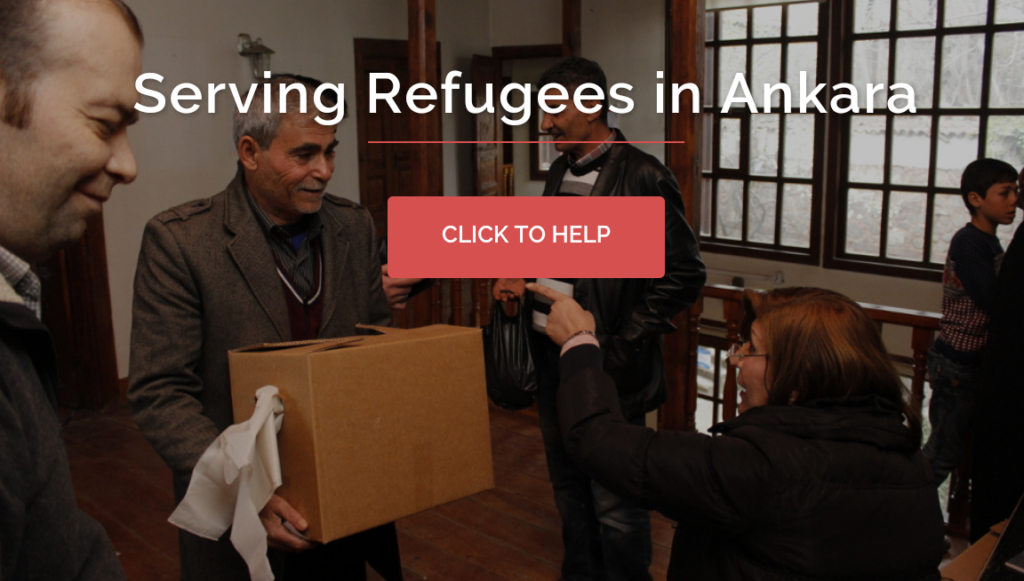 To say that it's been a whirlwind of a time would be an understatement. I've learned so much, from the basics I was expecting, like the local language and culture and how understanding those things is vital to ministering with local people, to a lot of things I wasn't expecting, like what's involved in starting and running a social aid program for people of another culture, what's involved in leading a program that literally serves thousands of people on a regular basis, and even super frustrating things like firing volunteers and telling people who have abused the system that they're no longer welcome to receive aid from our programs because of their abuse.
One Last Lesson
Specifically regarding refugees, there's another big thing I've learned… or maybe re-learned, I suppose:
This past Friday, we held another registration for our food distribution program. We had to shut down registration back in January, because we started to have way more people registered to receive aid from us that we were actually able to help. It sucked to have to do that, knowing there were thousands more needing help, but because of the limitations we had, we needed to start turning them away.
Well, there had been a few hundred people who have either left the city, or left the country, and so haven't been coming to our distributions. On account of that, we wanted to hold one last registration before I left. We had a sign on our building for less than 4 days, and called no more than 15 people, letting them know that we'd register the first 500 people that came for registration, between 1pm and 5pm that afternoon.
When we got to our center at 11 am to prepare for registration (and start it early), there was already well over 100 people waiting outside for us. By an hour later, there was around 300. We were massively understaffed, and were not expecting so many people to be present all at once. We got going, registering several dozen people, and starting to get through the line, but as we did, the line kept growing so much faster that we could process. The police (who have been constantly present since the bombings in order to prevent any potential attacks) also were unprepared for so many people. There were people pressed so tight against each other to try to get into our building; babies and mothers were crying; a couple fights broke out among the men. Before this year, I had never seen such desperation (though, this wasn't our first time seeing this much desperation at our center).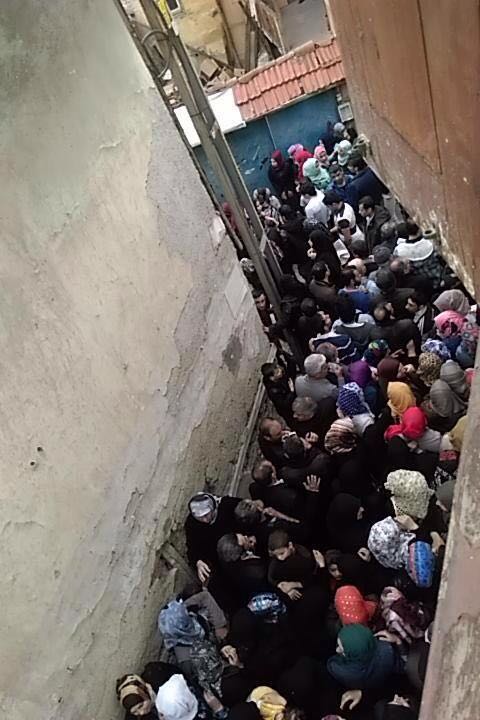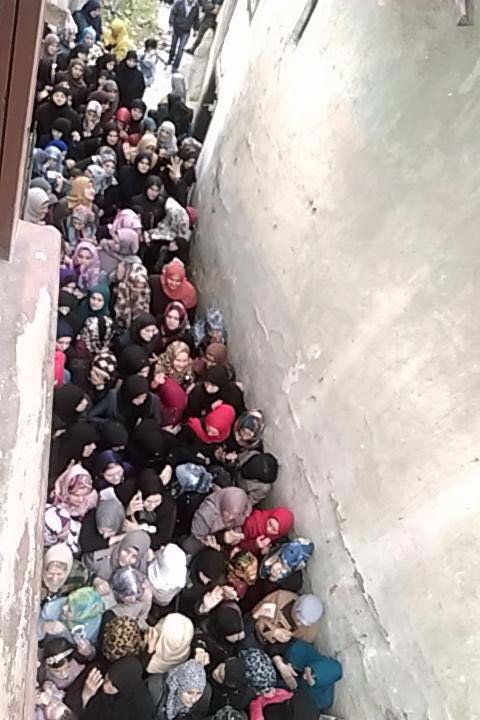 About an hour and a half after we got there, still well before we were even planning on starting the registration and with several hundred desperate refugees waiting outside our building making the neighborhood streets impassible, the police called it: "Shut it down".
We could try again another time, but we need to systemize everything better; make it more orderly, have more people to process the lines quicker, etc. And the police would make sure they're ready for next time, as well.
It's almost funny, really. That week leading up to that registration, I had several conversations with team members about whether food boxes was still the most helpful thing we could do. We'd been having lower turnout rates at our distributions (on account of people leaving, like I mentioned before), so we were wondering, should we start to ween down the food box system, and switch to something that people want and need more – maybe more programs like the sewing classes we've been running?
Well, lesson learned. Any doubt that refugees still needed/wanted food boxes was expelled pretty abruptly for us that Friday. And along with that, it was a sharp reminder for me that this situation is far from over.
A Crisis, Far From Over…
Historically, refugee producing events affect those displaced for decades on end. Whether that's being stuck in refugee camps for the global average of 15+ years, to the lifetime trauma of living through watching your family and friends get murdered while you flee from gunfire and explosions, it's not something that has a quick and simple "band-aid" fix. While things like food boxes, second hand clothes, etc. are a massive need for refugees, we can't stop there. That's just the start. Refugees in general need help/ministry for years after their basic needs (food, water, shelter, etc.) have been met. They need to be resettled, whether that's becoming well established in the nation they've fled to, being brought into a new country, or in rare cases, being able to return to their home nation. They need the church to step in and demonstrate to them what Jesus described in Matthew 25 – "I was hungry, and you fed me. I was thirsty, and you gave me something to drink. I was naked and you clothed me. I was confined to prison*, and you came and visited me. Whatever you've done to in the lowest situations in this world, you've done to Me." (*You'd be shocked how many refugees describe state-run refugee camps as "like living in a prison").
I submit to you that what should be true for the church in normal circumstances (that it must be our mandate to love our neighbors, and help the displaced, the orphan, and the widow in a radical and sacrificial way) needs to be exceptionally true of the church in exceptional circumstances.
What should be true for the church in normal circumstances, needs to be exceptionally true of the church in exceptional circumstances.
We are in the midst of the greatest refugee producing event in our generation – a migration of people that exceeds that of Israel's Exodus from Egypt. There's millions of people who will be directly affected in the coming years by the choices we in the west are making towards refugees. And those decisions will affect millions and millions more in the future. We're at a tipping point in history. This is an exceptional situation that our generation is presented with, and the Church needs to be equally and even more exceptional when dealing with it.
Oh, Canada!
I'd like to submit to you something else: The church in Canada is uniquely poised to play a major role in how history tips in the coming years.
I believe that Jesus and His church is the only place where true life can be found. I believe that we're called to be light in the midst of darkness, to bring hope to hopelessness, and healing in the midst of pain and death.
I also believe Canada as a nation is meant to be a place of healing to the nations. Our national motto is derived directly from Psalm 72:8 – "He shall have dominion from sea to sea, and from the river unto the ends of the earth". We're known globally as a peaceful, loving, and just generally nice (though, often quirky and peculiar) people.  I can't help but believe that this is for a reason.

Besides those two things,  there's an even more blatant reason I believe the church is Canada is poised to touch the nations. We have an opportunity placed in front of us that, as far as I understand, literally no other country's churches have – Canada's Private Sponsorship of Refugees (PSR) program.
If refugees want to settle in other countries in the world, the whole process is restricted by that nation's policy about the number of incoming refugees they'll receive. When the United States says they're going to accept 10,000 refugees, that's all they'll accept. When Australia says they'll release 12,000 refugee visas for asylum seekers from the Syrian/Iraqi crises, that's all you get (though, in Australia's case, even their follow-through on that is a little sketchy).
For Canada, that's not completely the case. While it's true that Canada has, in a similar way to Australia, the US, and many other nations, pledged to bring in several thousand Syrian refugees (originally 25,000 in the last few months of 2015, being upped to over 57,000 this year (of which we've already resettled over 27,000 – YAY TEAM!)), that number is not the limit; it's actually just the start. While in other nations the number of refugees that are taken in is decided solely and directly by the government's refugee policy, because of Canada's PSR program, any church that follows the program's framework (including collecting money to support the family's first year in Canada, and having people available to help the family with various first-year issues) can sponsor a refugee family, and bring them from places like the camps in Jordan, Lebanon, Turkey, etc. and adopt them into that church's community. So, that 57,000 is just the start!
The Church can do so much more!
Responsibility
If it's true that Canada is the only country that has something like the PSR program, that means that Canadian churches have an opportunity placed before them that literally no other country's churches have. But that also means that we have a responsibility placed before us that no other country's churches have.
Jesus talks in countless places about the importance of stewarding what we've been given. In the parable of the three servants in Matthew 25, two of the servants used the resources they were given to bear fruit, while the third servant simply hid his resources away, trying to save them. What does Jesus say the servant's Master's reaction was? The Master called the servant "wicked" and "lazy". That's stunning to me. The servant stored his money away. In my western mind, that seems wise. But Jesus teaches that just hiding our resources away isn't enough. We can't just store it away. That's the wicked and lazy route. We need to use what we've been given to create more; to bare more fruit than what we started with.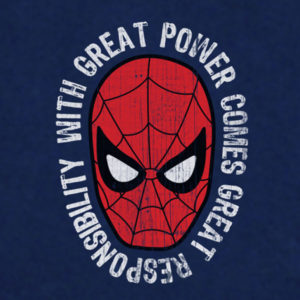 The Church has many global needs placed before it, bigger than anything we've come across so far. Along with that, Canadian churches have a globally unprecedented opportunity placed before them. I believe, because of that, we have a responsibility to take advantage of that opportunity to the best of our abilities.
Your turn
So… That brings us to you. If you've been touched by what you've just read, that responsibility I just talked about falls partly on you, too.
Here's a few immediate things you can do:
If you're connected with a church in Canada,

share with the leadership

the vision. If Canadian churches are going to bring in refugee families, it's going to happen at the

local-church level

. So share with your local church leadership and other people in your church what you want to see happen.

If you're not connected with a Canadian church, there's still plenty of opportunities to help refugees

. The ministry I've been working with for the last year –

ankara-refugees.com

– is building towards more and more sustainable ways to help refugees longterm. Donations going towards them will be used well. If you want to get more involved with refugee resettlement and don't know how, send me a message and we can talk about how you can do that in your location. 

Another valuable thing you can do is

share this post

with people through Facebook, Twitter, or whatever social media you're on. There are thousands of people who want to help refugees, but many don't know how to do that or where to start.

Get educated

about what's going on and how to help, and share what you learn with those around you.
Along with that, if you've felt impacted by what you've just read, I'd love to hear about it. Please comment on this post, or message me through the contact form on the top of the page. I'd love to talk, and partner with what you're doing!
I plan to continue working towards refugee related projects in the coming months. I'll talk more about what that looks like in coming posts, so if you want to hear more go to the subscribe page, and you can get updates in your email inbox.
Thanks for reading.
Let's change the world!